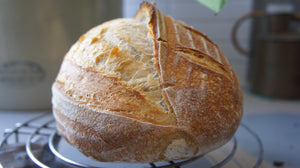 This amazing starter traces its roots back to the San Francisco gold rush (really!!) but has been living and mingling with Kensington Markets eclectic denizens for the past several years. It's been in continuous use since 1850! 
This starter makes great bread. See my reviews below!! 

Each order includes a packet of dry starter along with detailed instructions for activating and maintaining the starter, as well as links to some great recipes!  It's pretty fool proof and you will be baking amazing loaves in no time. 

Order now to take advantage of our current promotion offering free shipping World Wide.  All orders will be processed the same or next business day.

I work really hard to keep this incredible starter happy and healthy, and I hope you will love it as much as I do. Happy baking!